HOME ART PORTFOLIO WORKSHOP

A. Barannik, Interior Designer, BFA & Industrial Arts

---------------------------New York--------------------------

e-mail: mediterraneanbreeze1@gmail.com
Mediterranean Breeze Style


Mediterranean Breeze Art Project




Inner balance of line, color, proportions, smooth finish

Development of Mediterranean Breeze Style for residential interior based on Architectural Details Collection, created during the last few years as seamless mix of Gothic, Bizantium, American Victorian, European Classic and Conceptual Art styles. All Architectural Details are unified into one proportional system and carry Travertine Finish - Faux Paint / Trompe L'oeil. The project is intended to add more functionality along with artistic touch up to lighting the living space with ambient light integrated into every architectural detail reasonably placed on the interior wall or the ceiling.


Artistically finished Roman Classic Portal with fluted and plain round columns are an essential part of the Mediterranean Breeze Art Project for Residential Interior and utilize paint thinner-soluble media and water-soluble media with high-end smooth durable finish.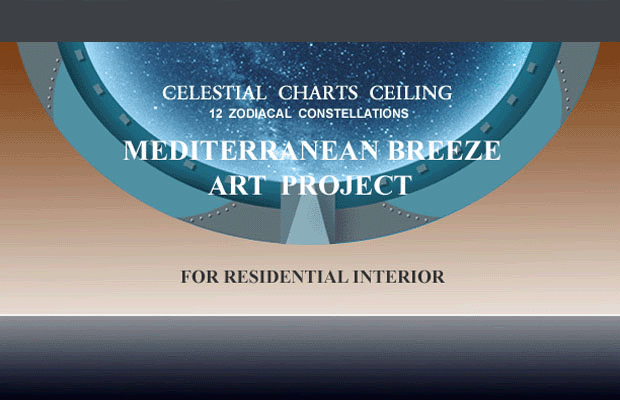 ---------------Welcome
---------------Welcome to the Architectural Details Set contents:
1) -- Ultra-Slim Ceiling Tray with fine finish and Panorama of Universe or 12 Zodiacal Constellations - Starry Sky at the center of the ceiling and equipped with electrical light system, composed in oval, rectangular or octagonal shape of ceiling frame/tray. Lightweight construction materials.
2) -- Roman Classic tapered round plain or fluted wood columns with capitals and bases and installation brackets and Fine Finish / Marbling. Columns come in pairs, dimensions are 6"x8', 8"x8'.
3) --Wall Artistic Panels, vertical and horizontal, including electrical light system, Fine Finish.
4) --Classic fireplace mantel with Fine Finish/Marbling designed with compartment for vent-free gas stove.
5) --Combination of Mediterranean Wall Stucco and Faux Paint with fading effect for interior walls to complete visual connections of all interior elements.
---

---
Dear visitors! You can see here simplified version of Mediterranean Breeze Art Project as practical application in small 2 story one-family brick house located in Westbury, Long Island, New York. Current designs of the ceiling and wall elements can not be shown on the web site because each single detail of this set can simply form a new product line.
---

Living Room view Before and After toward entrance foyer. Pair of columns, cornice and rectangular shape ceiling tray are already installed

Another pair of finished and installed columns around the opening is connecting the dining and the living room with already filled peachy Mediterranean Breeze.

Mediterranean Breeze style allow simple composing a various of pre-manufactured decorative objects, or created by participating decorative artists, architectural details and interior elements with its original finish or with ability of refinish.
---
Challenging low ceiling barn-style attic above the garage become luxurious master bedroom. No matter how small your living space is, but how you do care about it.

---
Thanks for visiting and please come again to learn it, to love it, to create it.
E-mail: mediterraneanbreeze1@gmail.com
© 2013 All rights reserved.