MAIN ART PORTFOLIO WORKSHOP

e-mail: mediterraneanbreeze1@gmail.com
Mediterranean Breeze Style


Mediterranean Breeze Art Project for Residential Interior

New York

Trompe L'oel definition

---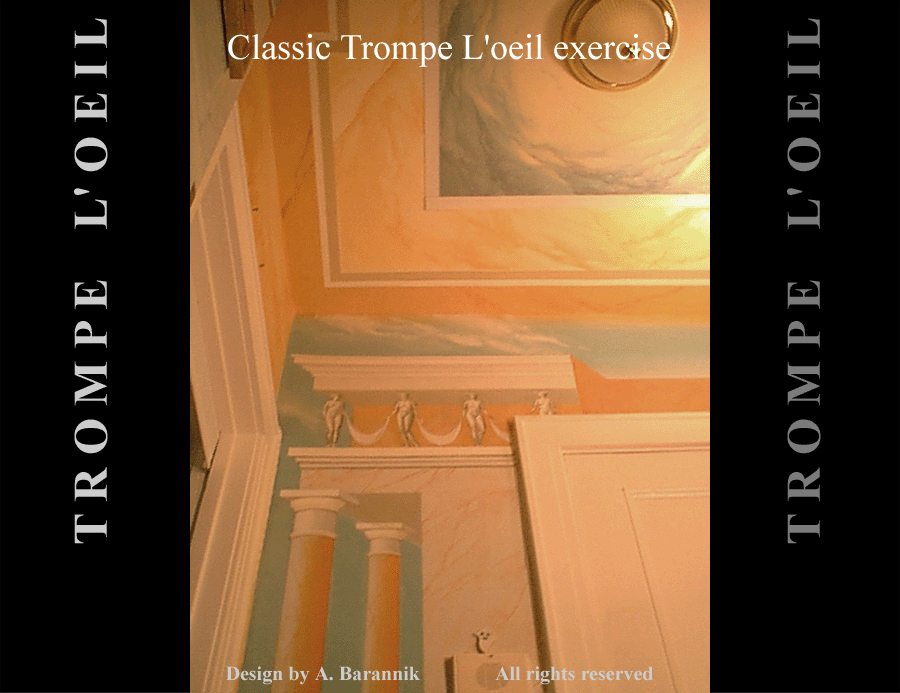 Tromle L'oeil is a style of mural and single objects painting from Europeam Classic and contemporary American masters. This brush work located in the entrance foyer of the 4th story late Victorian Era apartment building, artist's studio. All Italian Renaissance Artists such as Masaccio, Donatello, Brunelleschi, Leonardo da Vinci, Michelangelo Buonarroti, Titian, Tintoretto, Bellini, Botticell, Giotto are a powerful guide from fetish life concept to the lasting long qestion: what we are?
---
e-mail: mediterraneanbreeze1@gmail.com
---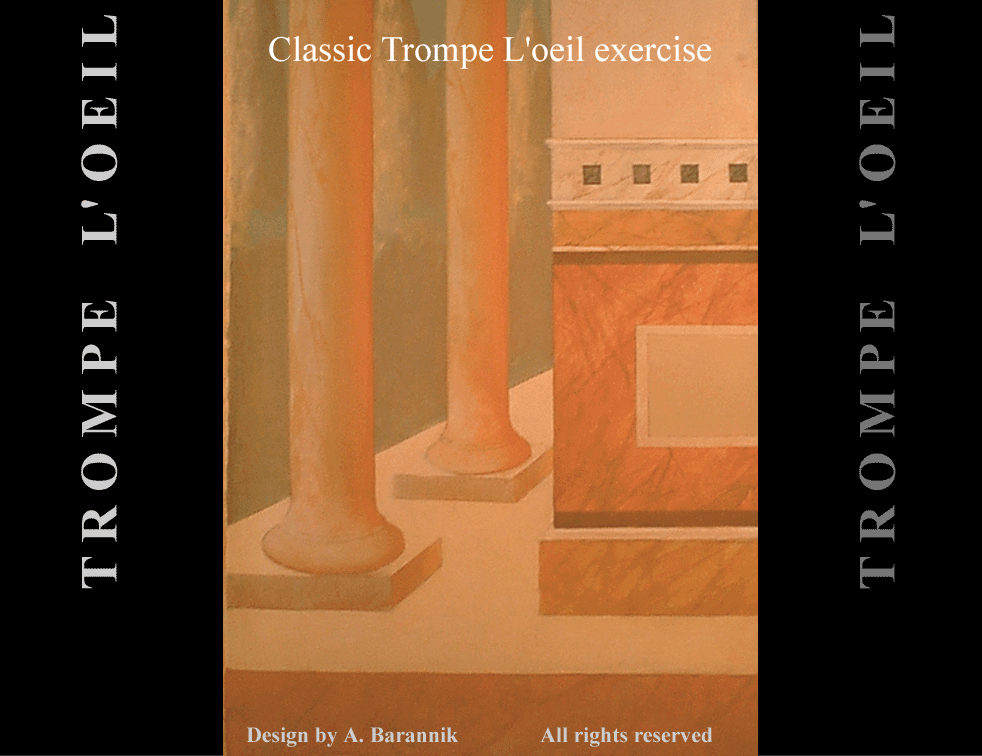 ---
Trompe L'oel definition:
Funk & Wagnalls Standard Desk Dictionary
In art and decoration, the accurate representation of details, scenes, etc., to create an illision of reality.
French: "deceive the eye"), in painting, the representation of an object with such verisimilitude as to deceive the viewer concerning the material reality of the object. This idea appealed to the ancient Greeks who were newly emancipated from the conventional stylizations of earlier art. Zeuxis, for example, reportedly painted such realistic grapes that birds tried to eat them. The technique was also popular with Roman muralists. Although trompe l'oeil never achieved the status of a major artistic aim, from the early Renaissance on, European painters occasionally fostered illusionism by painting false frames out of which the contents of a still life or portrait appeared to spill, or by creating window-like images suggesting actual openings in the wall or ceiling.
In Italy in the 15th century an inlay work known as intarsia was used on choir stalls and in sacristies, frequently as trompe l'oeil views of cupboards with different articles seen upon the shelves through half-open doors. In America the 19th-century still-life painter William Harnett became famous for his card-rack paintings, on which are depicted various cards and clippings with such verisimilitude that the viewer becomes convinced that they can be lifted off the painted rack. In the late 20th century, muralist Richard Haas painted the exteriors of entire buildings in trompe l'oeil, primarily in Chicago and New York City. Aaron Bohrod was one of the foremost 20th century practitioners of small-scale trompe l'oeil.
Etymology:
French trompe-l'œil, literally, deceives the eye
Date:
1889

1: a style of painting in which objects are depicted with photographically realistic detail ; also : the use of similar technique in interior decorating
2: a trompe l'oeil painting or effect
3: something that misleads or deceives the senses : illusion

e-mail: mediterraneanbreeze1@gmail.com
---
© 2013 All rights reserved.